Call of Duty: Modern Warfare (2019) - Operator Edition (Xbox One)
Platformă:

Xbox One

Metoda de livrare:

Cod digital

Timp de livrare:

Mai puțin de 5 minute

Regiune:

La nivel mondial

Disponibilitate:

Stoc terminat
Operator Edition includes: Digital in-game items
Custom In-Game Tactical Knife
"All Ghillied Up" Operator Pack
"Crew Expendable" Operator Pack
"War Pig" Operator Pack
XRK Weapons Pack
Each Operator Pack includes a themed Operator skin, cosmetic weapon variant, and additional bonus content.
Pre-order and get:
Classic Captain Price Character in Blackout for Call of Duty®: Black Ops 4*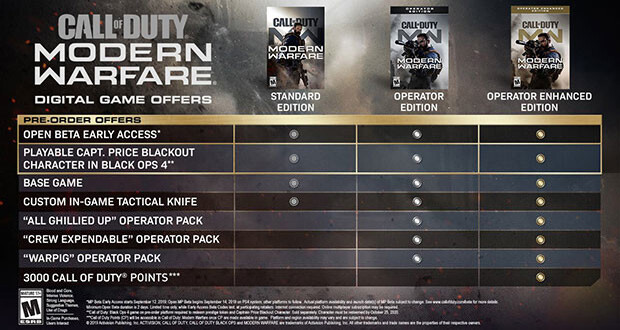 Call of Duty: Modern Warfare
Prepare to go dark, Modern Warfare® is back!
The stakes have never been higher as players take on the role of lethal Tier One operators in a heart-racing saga that will affect the global balance of power. Call of Duty®: Modern Warfare® engulfs fans in an incredibly raw, gritty, provocative narrative that brings unrivaled intensity and shines a light on the changing nature of modern war. Developed by the studio that started it all, Infinity Ward delivers an epic reimagining of the iconic Modern Warfare® series from the ground up.
In the visceral and dramatic single-player story campaign, Call of Duty®: Modern Warfare® pushes boundaries and breaks rules the way only Modern Warfare® can. Players will engage in breathtaking covert operations alongside a diverse cast of international special forces throughout iconic European cities and volatile expanses of the Middle East.
And the story doesn't end there.
In Call of Duty®: Modern Warfare®, players will be thrust into an immersive narrative spanning the entire game. Experience the ultimate online playground with classic multiplayer, or squad-up and play cooperatively in a collection of elite operations accessible to all skill levels.
Check if today you can get the best deal for Call of Duty: Modern Warfare (2019) - Operator Edition (Xbox One)
Acest produs nu este in stoc de 30+ zile
Consultați alte produse similare făcând clic aici!